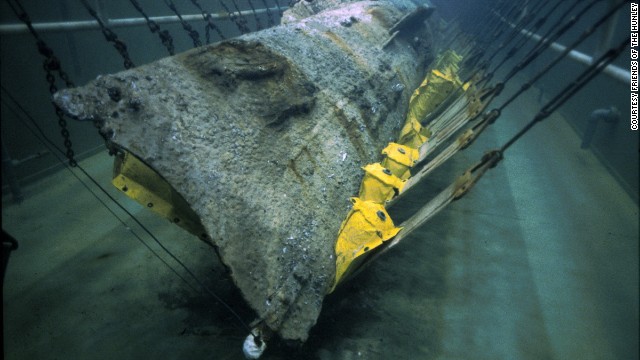 HL Hunley: More clues found in Civil War submarine
(CNN) – Further clues to the HL Hunley mystery are revealed during the conservation of the Civil War submarine.
On Wednesday, researchers at a laboratory in North Charleston, South Carolina, unveiled the crew compartment – which had been sealed by more than a century of exposure to the ocean and encrusted sediment.
"It's that 'wow' moment where you take a step back and realize what you're doing," said Johanna Rivera, one of the restaurateurs. CNN affiliate WCIV-TV in Charleston.
Conservation work is underway on the HL Hunley at a laboratory in North Charleston, South Carolina.
WCIV
Conservation work, which began after the Hunley was lifted in 2000, eventually exposed the submarine's entire crankshaft – used to propel the ship by hand.
A tooth was found embedded in the sediment on one of the cranks. Officials said he ended up there "post-mortem" after one of the crew members decomposed.
Inside, they also found textile remnants and a thin metal casing around the crank, showing how the crew used the submarine.
"When you twist an iron bar in front of or below you, you'll need something to keep your hands from rubbing them or rubbing them raw," archaeologist Michael Scafuri told WCIV.
One scenario maintains that the Hunley was submerged or struck by a Union vessel. Or that he dived to the bottom of the sea to avoid detection and never got back up. A lock on the front turret turned out ajar.
The Hunley's "torpedo" was attached to a spar. The crew thrust it into the Housatonic's hull and the charge exploded. It is possible that the submarine's hull was pierced by the explosion or that the men passed out at some point.
Almost all of the human remains were found where the men were at their posts, rather than trapped together in an escape hatch. The remains were buried in 2004.
Work on the Hunley will continue for at least five to seven years.
Conservators focused on the careful removal of sediment – or concretions – that were firmly attached to the exterior and cramped interior of the Hunley.
Once the process is complete, the submarine will be moved to a museum for display, although details have not been worked out.
CNN's Christine Sever contributed to this report.