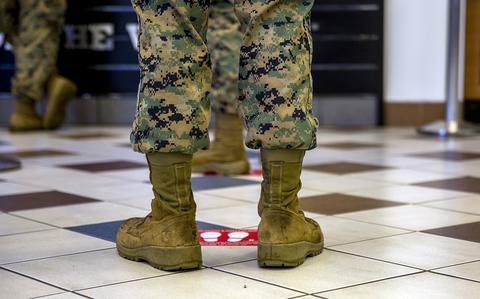 Stars and Stripes – Navy and Navy bases in Japan fight new coronavirus infections as cases rise in Tokyo
A Sailor stands behind a social distancing marker as he lines up at the exchange at Camp Hansen, Okinawa, April 7, 2020 (Kindo Go / US Marine Corps)
Stars and Stripes is making stories about the coronavirus pandemic available for free. See other free reports here. Sign up for our daily coronavirus newsletter here. Thank you for supporting our journalism with a subscription.
CAMP FOSTER, Okinawa – The Japanese Navy and Marine Corps moved on Thursday to isolate and monitor coronavirus cases that have emerged at their facilities in Okinawa and just outside Tokyo.
Meanwhile, the governor of Tokyo on Thursday reported 224 new infections in the metropolitan area, an increase that surpassed the previous record of 206 on April 17.
For the second time this week, an undisclosed number of people associated with the Marine Corps in Okinawa have tested positive for the virus, adding to the number of cases there, according to a press release Thursday from Marine Corps Installations Pacific.
The Atsugi Naval Air Facility, south of Tokyo in Kanagawa Prefecture, also "discovered a few cases" of the coronavirus on Thursday, prompting base commander Captain Lloyd Mack to order a lockdown at 2:45 p.m., said Thursday by phone a spokesperson for the Navy.
"Just to protect the community and make sure we are preventing the spread, the skipper chose to take shelter in place during the investigation," said spokesperson Howard Samuelson.
In Tokyo, the 224 new cases are the highest daily number since the outbreak began, Governor Yuriko Koike said at a meeting of the city's coronavirus response headquarters. Tokyo is generally off limits to US troops, civilian Defense Department employees, and their families.
In Okinawa, the Marines on Thursday did not say how many people tested positive, only that they fell under the status of forces agreement and were at facilities that make up the Corps' sprawling base camp. Marines Smedley D. Butler.
On March 27, Defense Secretary Mark Esper ordered commanders to stop reporting new cases of coronavirus at their facilities, citing security concerns. The policy is not uniformly respected.
Camp Hansen was closed overnight from 10:43 p.m. Wednesday to 9:22 a.m. Thursday to allow for contact tracing and cleanup, according to the Navy statement Thursday.
It did not specifically link Hansen to the new coronavirus cases. Those infected have been quarantined, the statement said.
However, the Okinawa Defense Office is collecting information on Japanese employees at Hansen and Marine Corps Air Station Futenma who may have been in contact with affected U.S. personnel, according to an office spokesperson.
Government spokespersons in Japan frequently speak anonymously as a condition of their employment.
Movements of the latest cases are being tracked to determine if they have had contact with locals, an Okinawa Prefecture spokesperson told Stars and Stripes on Thursday.
MCAS Futenma was locked up for four hours on Tuesday after "several" people there tested positive for the coronavirus; these individuals were also isolated, according to the Marines.
"These measures are put in place to ensure the safety and well-being of our forces, our families and our neighbors in Okinawa," the statement said on Thursday. "We are taking all measures to prevent the spread of COVID-19", the respiratory disease caused by the coronavirus.
For now, U.S. bases in Okinawa remain under Bravo health protection, signaling a "moderate" risk of the coronavirus spreading, Navy spokesman 1st Lt. Tim Hayes told Stars and Stripes.
The Marines will not make any further statements to the media on the new cases of the coronavirus, according to the statement on Thursday, in accordance with Esper's instructions "and to protect the privacy of those affected by COVID-19."
On Wednesday, the Japanese Ministry of Health, Labor and Welfare had counted 20,371 cases of coronavirus and 981 deaths.
On Wednesday, Okinawa confirmed its first positive case of the coronavirus in its population since April 30, a man in his 40s who had visited the main islands of Japan.
The Okinawa Times reported that the island confirmed another off-base case on Thursday. A woman in her 20s from Tokyo tested positive while traveling to Okinawa.
The prefectural government reported two cases on Wednesday, each having contracted the virus outside of Okinawa, the newspaper reported.
Stars and Stripes reporters Hana Kusumoto and Seth Robson contributed to this report.
[email protected] Twitter: @DaveOrnauer[email protected] Twitter: @AyaIchihashi